First Saturday of March every year Deepam turns another year old.

This year its on Saturday 7th March 2009 that Deepam celebrates its First Anniversary.Its been a roller coaster year- our first year with loads of activities that have kept us busy on all the weekends.Deepam from a 20 member group has more than 200 members on facebook today.New programs have been launched, New centers have been approached and courses have been launched there , reach to several underprivileged students across Chennai city , computer and other resources have been provided to the centers, new activities, additions to curriculum etc etc .All this has been possible only bcos of the dedication and commitment of volunteers off-line and on field.Thank you all for your support!
Its time to celebrate now.None of you needs an invitation as you are all a part of one big "Deepam Family"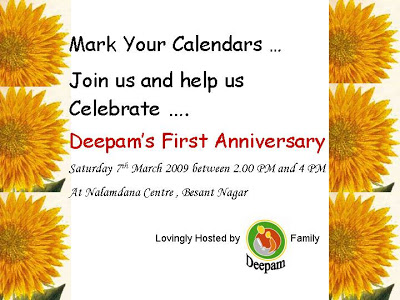 So "BE THERE" on the 7th March between 2.00 PM and 4PM to witness the Annual Function of Deepam at Nalamdana Centre, Besant Nagar.Meet all our students from different centers, interact with them, perform with them and take home a bunch of good memories and smile that will last for a long time.Guests are welcome.