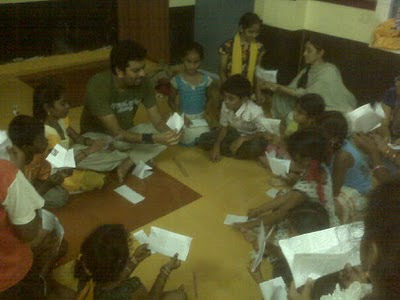 Deepam KC centre had organised a fun activity for the children. Subash Thiyagarajan , an origami expert, had a fun time with the kids at the centre. He seemed a natural, talking their language , engaging the kids in the art , commanding their attention , keeping the kids interested and amidst this fun activity, he taught us to make this paper art and also a nice lesson in maths on shapes.
No no, it is NOT complicated – with such easy to use tools, SCRATCH makes the children enjoy this experience. How do i know if the kids liked it ? Well, the volunteers had to stay 30 mins past the scheduled close of class, since the children were so engrossed in the project 🙂
Sooper work Ram / Santhiya / Shashi / Deepa et al. Awesome energy in the class !!