DEEPAM Scholarships was launched formally in early 2021, to provide financial support & guidance to less-priveleged students. This support can be utilised for college education (mostly) and also for school education.
Today, Deepam Scholarships team is excited to announce a new collaboration program – a scholarship program that can be instituted by any donor – an individual or family, in the name of their loved ones. This scholarship can be named to honour a living person or can be commemorative as well. This annual scholarship makes a direct impact by supporting a deserving student(s).
DEEPAM Venkatachalam-Kalyani Scholarship
As a 1st in this series, DEEPAM Venkatachalam-Kalyani Scholarship is instituted by Venkat on 18th October 2021, to honour his living parents – Mr.Venkatachalam & Mrs.Kalyani.
In his own words, Venkat says – "For my father who is more righteous than any person I have seen and my mother who is benevolent towards all life, this scholarship is a tribute from their son for a cause that we all believe in. There is nothing more important than education today.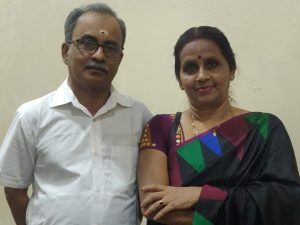 Education is the only thing that will help us break shackles and scale barriers.
Having worked with Deepam for many years, we find no better place to start doing our little bit when all of us are alive and well "
DEEPAM Venkatachalam-Kalyani Scholarship will be an annual scholarship given to deserving less-priveleged students, to support their education goals. This scholarship currently provides Rs 25,000 towards the college/school fee of deserving students. The annual scholarship amount is likely to increase in the coming years.
Priyadarshini Prakash – 1st Recipient
For the year 2021, the scholarship is awarded to Priyadarshini Prakash – Priya has scored over 95% in both her class 10 & class 12. Her college education fee is supported in part through this scholarship
DEEPAM is thankful to Venkat & his family for initiating this new scholarship program  – This initiative opens a lot of opportunties to deserving students.
If you wish to institute a scholarship in the name of your loved ones, please contact DEEPAM – [email protected]