I spent my best Independence Day ever and so did KK, Ram, Archana, and Dr.Karthick. I opened my eyes on 15th August morning to a light drizzle and a cool climate whihc cheered me up instatntly. The lovely weather was a precursor to the day that would follow.
Deepam launched the "Take Home a PC" initiative at the Olcott Memorial High School. A week back Muthuselvi would not dream of an ordinary desktop and now, she got her hands onto an Apple Mac PC.
After the I-Day ceremony concluded at OMHS, Muthuselvi was informed and she was dumb-found and left without any words to express herself. All the teachers at Olcott, headed by the HM Mary Miss and the Director Lakshmi Maam, witnessed and expressed their hopes on Muthuselvi.
After that it was only installling the pc at her place and thats all… it made the best I-Day of my life…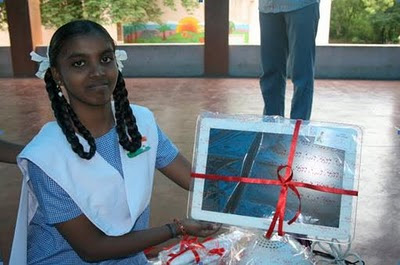 One very important thing to note is Muthuselvi is quite familiar with Windows but we knew she was alien to Mac.This has provided her with one more challenge which we are very sure she can tackle. She is strong on her fundamentals and quite inquisitive by nature. It will be very interesting for a girl of her talent to venture forth and discover new things. After all life is an exploration itself!!!
– Basu