No festoons or flowers, no dazzling lights or music. Still, the class room wore a festive look and the joyful atmosphere was so thick you could lean on it. The children had come in dazzling colours that matched the excitement in their faces. It was like it was everyone's birthday.
In a way it was. Yes, West Mambalam Center of Deepam stepped into its second year on 4th September 2010 and the function to commemorate it was got up on 25th September.
And what a day it turned out to be! The class started at 9 AM like any other day, with children vying with each other to get the best book from WM Center's library. Even though the children knew 'Board Games' were to be inaugurated after the library session, it was heartening to see that they were well-behaved, not wanting to rush through the books. Soon, when the modest collection of Board Games was thrown open, the volunteers appearing more excited than the kids, it was greeted with loud cheers. The games were an instant hit.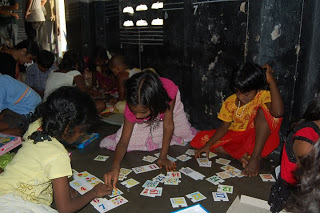 Children and volunteers formed groups and the games were played with great enthusiasm both by the kids and the volunteers. The Center's collection of games had been procured on an experimental basis to cater to the interests of children of various levels. These included jigsaw puzzles, word games, chess, games based on numbers and shapes. The thought that these kids probably don't get a chance to enjoy such games either at home or at school made the whole exercise very special and exciting.
The Center had the honour of having Mrs Chitra Nagesh as chief guest. Mrs Chitra Nagesh worked as a Social Science teacher at DAV and at PSBB and currently after retirement she is working with a lot of schools and teaching Ghandian Values. It was a proud moment for Saye and Yeshwant who have attached so much value to her impeccable qualities, and today they could express their gratitude to their teacher in a way she'd feel happy and invite her over to introduce WM team to her. Mrs Chitra Nagesh put everyone at ease with her simple approach and modesty. Her talk on non-violence and appeal to all to shun violence, going deep into root causes of many a conflict, was really thought-provoking to the kids as well as to the volunteers.
Afterwards the children enacted a beautifully conceived skit, show-casing in just 90 seconds the ideals of Deepam and how over the last one year these have been achieved in West Mambalam Center.
A fitting memento was presented by Deepam WM Center to Mrs Chitra Nagesh. In recognition of the excellent support the school's Head Mistress, Mrs Radha, and the teachers of the school have been extending to Deepam and its volunteers, an acrylic shield with the inscription "Deepam Supported Institution" was presented to the School.
This was followed by cutting of the Anniversary cake and distribution. Children were also given in a take-home packet cakes, biscuits and chocolates.




Truly it was a very satisfying event and a memorable anniversary for Deepam WM.
Later, commenting on the event, Mrs Chitra Nagesh remarked that Deepam's way of combining fun with teaching is something that even trained professionals struggle to achieve.