Deepam
aims to honour 2 types of people through this award
People involved in direct teaching & mentorship : Teachers are the people who have an immense opportunity to change the future of the world – by positively influencing the people who will inhabit the world in the future. The best among them will be honoured through the

Deepam

Fellow

award
People involved in design & implementation of programs enabling teaching : By designing / implementing a program that enables teachers / children to meet their education goals, people who design / implementation work in tandem with teachers to make an impact on the children. The best among these people will be honoured through the

Deepam

Fellow

award
2010 Deepam Fellow
Rajagopalan Sir – Everytime I talk to him, I come away with a light feeling. I would not have been surprised if he was on the stage at the annual day, shaking the legs with the children. Almost twice my age, he has never 'adviced' me or saye or the other 'kids' 🙂 – he easily connected with all the volunteers and won our respect and admiration, just for this. His flair for writing , wit and energy filled emails / puzzles keeps the Deepam mailing lists alive
He is meticulous in his work, along with Vasanthi mam / Maduravalli Mam, organises a successful library program at the Deepam West Mambalam centre. He visits the centres even during weekdays to run the library program. His enthusiasm to help children read was evident in the way he helped organise the Deepam WM centre trip to the Anna Library. He also prepares 'interesting lesson plans like this 😉 .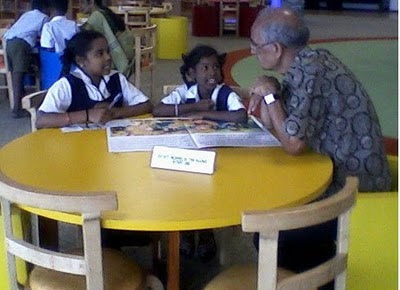 He connects with the children with ease. They adore RR sir 🙂 – no wonder he was called in as a 'chief guest' for the West Mambalam school's annual day.
We are honoured to have RR Sir with us. He is one of our Deepam Fellow 2010
Meera –
One of the earliest volunteers, Meera was active at Deepam, despite a 2 year study break in the US. She actively evangelised Deepam in the US and brought in valuable donation dollars.
When she got back, she was keen to make a difference on the ground. This keeness as evident when she encouraged the children to participate in the Google Doodle contest – I was pushed into taking her to the Uroor Kuppam on a sunday afternoon, where we met the children with the painting kits.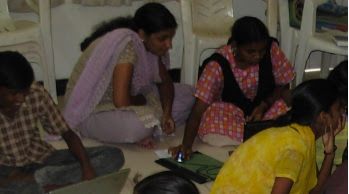 She showed equal enthusiasm in building a strong team at the Uroor Kuppam Centre, who have been doing some great work at the centre.
She also pushed us / kept hope / helped in writing an effective proposal that helped Deepam win the 2HP EdTech award.
She is our other Deepam Fellow 2010