Deepam's Outstanding Volunteer Award is given to volunteers whose performance in the year has made a difference, made people take notice and follow their examples.
Deepam takes immense pleasure and enormous pride in acknowledging and sharing with everyone, such splendid performance by such volunteers by honoring them with this Award.
Here are the 2 awardees this year
Praveen Venkatachari :
Praveen is a fantastic example of someone who is highly passionate about education & teaching.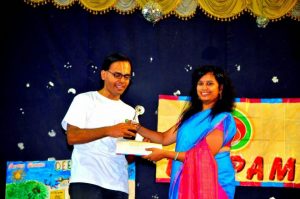 As a volunteer, he laid the foundations of a good computer program at Deepam . He identified books for teaching computer basics, which was used by all Deepam children this year. He made 'Computer class' at WM centre a reality by dedicating 30 minutes exclusively for teaching computers to 5th standard children. He constantly thinks of ways to reach English and Computers to children and is a major contributor to curriculum on Deepam Dropbox with valuable information / files. He made a ton of other contributions, in devising a common Assessment Test sheet for all Centers, built the new website for Deepam, Built a better volunteer on-boarding forms and many more.
As a leader, he listens to his team and is open to suggestions. He strives to make it easy for volunteers to execute ideas. Has a great sense of responsibility, adapts to changing situations, and willingly takes on any role as situation demands. He has also maintained a good rapport with WM school Principal to ensure weekly Deepam classes go on smoothly.
As an individual, he is someone high in integrity. He is always on time and in a totally volunteer setting, has a 100% attendance at Deepam classes in West Mambalam.
Ever since he's been introduced to Deepam, Rohit has been an extremely committed volunteer at VRS centre. True to his nature, Rohit usually avoids the limelight, but is easily amongst the most reliable volunteers. He is a regular at VRS Centre, actively teaching children for the past 2 years.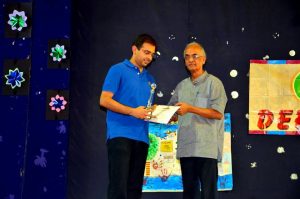 For all kinds of events / outings / activities etc, Rohit's leading participation can be taken for granted. He is invariably unfazed about any responsibility he is given or the tasks he takes up.
His involvement with the kids and volunteers is extremely cordial.
In addition to his regular contribution as a teaching volunteer at VRS centre, Rohit has gone out of the way to ensure the STARS program at VRS centre gets a yearly funding. He also took a big initiative in helping Deepam pitch and win the funding from World Bank in 2013.
From the most routine tasks such as putting the laptops for charge every week to pitching for complex funding projects, Rohit's dedication has been outstanding. An award well deserved and we look forward to him doing many more interesting work!