We were hoping the rains would go away for that special day, but no, it was pouring ! An hour before the event, we inspected the premises and noticed some water trickling in. But thankfully, once the celebration got underway at 2.30pm, nothing seemed to matter. The regular set of children turned up, and after several smiley exchanges of Happy Childrens' day, the white Deepam T-shirts were distributed to the them (S-M-L). Out came the fabric colours, and then, ever-energetic Archana gave clear instructions to the children on how to use each type of colour, wax crayons, blocks, rollers and tubes. Newspapers were spread all over the ground, and Radhika took charge at the centre of the circle formed by the group. They couldn't wait to begin. Over the next hour, as we strolled around, we saw different pictures emerging on each T-shirt….brand Nike, Michael Jackson, Chevrolet Cruze and what not ! Many of them highlighted the round collar too. It was a riot of colours ! The masterpieces were then collected and using hangers, were hung out to dry on a makeshift clothesline. Wow ! It was brilliant to see them all together!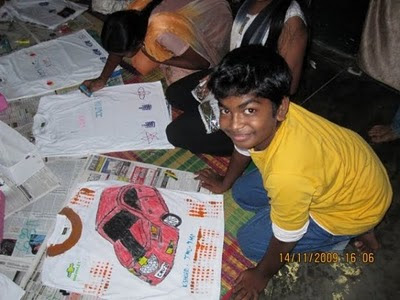 It was then time to Launch the Library project, a new initiative at Deepam. Ram engaged the children in a discussion about the significance of a library and reading, and soon the set of books were given out to the children, mostly based on the child's interest. We hope to get the children hooked to the reading habit, and judging from the initial response, it may be easier than we think.
The serious bit over, all eyes were now on the chocolate truffle cake placed enticingly on the table. The cake cutting made the event like one big birthday party. The plates with cake and biscuits were passed around to all the children, the caretakers, and volunteers. ….All this while, something was happening behind the scene. The surprise of the day was the deepam Tiger ! The children were amused and happy to see a growling tiger suddenly emerge from the back, and enjoyed taking pictures… Srini's efforts paid off and the Tiger was a super hit ! All happy faces, more exchanges of Happy Children's day and it was time to go.
– Anuradha