When noble and munificent organizations or individuals come up with donations to strengthen and support Deepam in its continuous endeavour to light the spark in the child's mind – and keep it glowing – it is with wide open arms and lot of gratitude that such gestures are received.
A sizeable fund was given to WM Center out of the donation received from Roundtable ( Madras Knights Round Table 181 ) / TeamUSA (Indiateam.org), and the co-ordinators wasted no time in inviting suggestions from volunteers on how best to utilize it. Equally quickly, mails were exchanged, needs discussed and the Center's immediate requirements finalized.
The first was a 5.5' steel almirah – a long-felt need at the Center. This was ordered, delivered and was in place at the Center and one set of keys was handed over to the School Head Mistress on 31/07/2010. The storage space in the cupboard will be shared between Deepam and the School.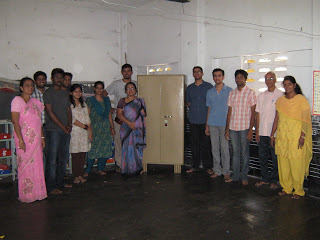 Another immediate need was augmentation of WM Center's Library. As many as 55 books, hand-picked with utmost care to suit WM Center children's aptitude, were added. With this addition, the Center will now be able to fulfill its desire to give children more books to choose from, for reading in the class or at home.
15 learning-based games (e.g, Spell-O-Chess, Origami, Number Puzzles, Jigsaw Puzzles) were added to the Center for use under volunteer guidance. It is the Center's idea to utilize these as occasional diversions to the children without, at the same time, straying much away from learning.
Deepam would like to thank Round Table (Madras Knights Round Table 181 ) and TEAM USA for its generous contribution and we look forward to their continued support to help improve infrastructure at other Deepam centers.