Its Oct 2nd, National holiday, shops are closed, schools are closed too, and in most centers children to mass bunk, and decide to watch T.V.But what happens at Kakkan colony center takes everybody by surprise. It was also quarterly exam holidays, so the volunteers weren't expecting much of a crowd.
The previous week, we had taught kids about bridges, their types, their functionality etc, and so decided to give children a hands on experience on what it takes to build bridges. Volunteers were all geared up with all the materials to make this bridge building event a thought provoking one for the kids, but were alsofilled with skepticism about children turning up for the class. slowly by the time it is 5 o clock, we have more than 30 kids in the class, and new kids just kept pouring in.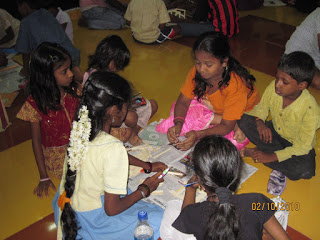 In a way, we were both happy and scared if we would be able to make the children experience what we intended to teach. so anyway, we take one thing at a time, and decide that the only 5th graders and above will do the bridge building activity in groups of , while the smaller ones will work on dialouge delivery and conversational english. Once again, we were surprised, the smaller ones offered to help the bigger kids build the bridges.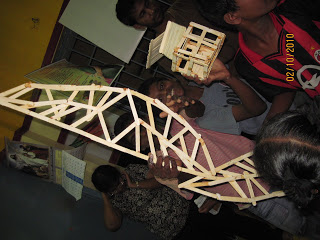 .
Children and volunteers formed groups and the ice cream sticks were distributed and children were allowed to choose their bridge designs from the templates. The collection of designs was given on an experimental basis to cater to various levels of complexities and to test commitment levels besides team work and visualising 3 D objects. These included simple truss bridges to more complex ones like suspended bridges, arch bridges and beam bridges based on their strength and load bearing capacities.. The thought that these kids probably don't get a chance to relate real life scenarios to what they read in books made the whole effort of teaching them and experimenting on it made it a worthwhile experience.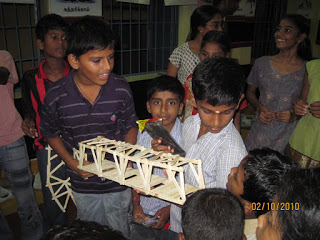 We had invited Ms Lekha Umesha as our chief guest, Lekha is an Architect graduated from NIT Trichy. Her areas of interest are in product design and creative designs. Currently after graduation, she has been learning and doing a lot of complex Modular Origami objects.
we had started working on building the bridges by 5.15 P.M. while the bigger kids were scaling their bridge designs and getting ready making their templates, the smaller kids help them apply glue to the ice creams sticks and also run around spying on other teams and their levels of completion. It was a total fun activity, where we were witnessing a combination of team spirit, leadership among the older ones, understanding maths, physics and the strength of materials.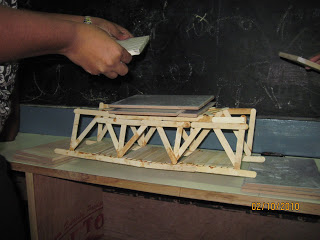 the Judge arrived at 6:30 P.M and only 1 bridge had got completed by then. when we looked around, we had no hopes of seeing any more bridges getting completed, and she started her work on judging, which included criteria like stability, complexity of design, execution and improvisation from the original design, minimal usage of material for maximum strength and load bearing capacity. after the 1st entry had been evaluated, the heat caught on when children started counting the number of tiles the bridge could bear, and the spirit was so high inside the class room.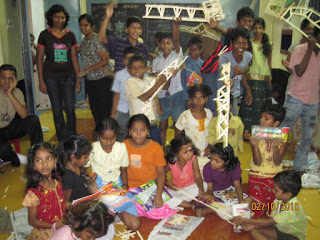 subsequently all the entries were evaluated, and the result was announced. Honestly it was a very satisfying event and a memorable one for the volunteers and kids as well, as most of them took more ice cream sticks home to complete their bridges and were planning to bring it to class the following week. Later Ms Lekha remarked that, the enthusiasm in the smaller kids was higher than the bigger ones. while some of them took it seriously, some of them were having fun. while some of them struggled with over ambitious design, some of them did a commendable job with their simple yet strong designs. The struggle was more due to the lack of team work and communication skills among kids, as they were unable to communicate what they wanted to deliver and hence slightly complex designs failed to materialise.In effect, it was a learning experience for both volunteers and the kids. Never mind, it was still a practical lesson learnt.