When I came to Deepam today, I hit upon an exciting (for me
J
) idea and wanted to try it out. So, I made this crude picture and wanted to fill the slots with six words denoting places where we see many people.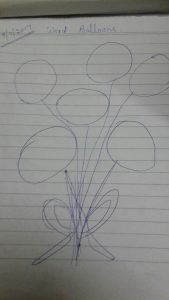 I was today handling the group that had Thirumalai, Venkatesh and Hariprasad (4th std kids). Wanted the children to suggest those places and I kept their interest sustained saying, "I have something interesting for you at the end of the class", though I knew they were not very convinced.


After finishing the curriculum, I pulled out this picture and turned it over to let them suggest six places, attempt spelling them out and jot down, so that they can fill the slots with those words. I admit that I had so underestimated these children, that the list turned out to be 15 places long (and even that was because I told them that this was long enough).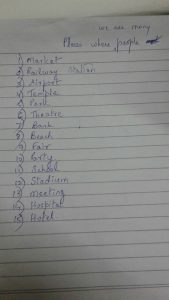 Wow! I was astonished. I helped them with just 2 or 3 words and for all the remaining places they were able to recall the right English word. They were able to spell the simple ones and very boldly attempt the rest phonetically getting close to the correct spelling.
Then I revised the picture with 15 slots (a crude one again) and all three of them happily wrote down the names in those "word balloons."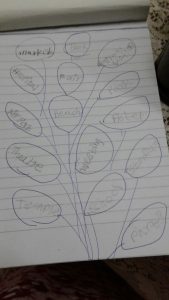 I felt so satisfied and told myself that I need to do something like this every class to make it exciting for me and the kids. If we can progress to forming simple sentences with such jotting of words, I am sure I will feel a huge sense of accomplishment that day. Waiting and working for it…….